In the last decade, the Oil & Gas business has significantly enhanced innovative concepts to cope with new environmental and long term visions, Mechanical Integrity Testing to prove the well is still in acceptable working conditions and Well Decommissioning to properly abandon the well itself and the surface equipment. At the same time, the smart cost concept adapted to Well intervention was progressively implemented to cope with tighter budgets. In this regard, FLODIM capability to develop in-house tools and technology becomes of real interest when considering flexibility to match new customer's requests. Our operation team is ready to mobilize on short notice to the most remote areas, willing to serve any client with the same personalized care.
Declination of the dual Bottom Hole Sampling and Electrochemical casing cutting patents to Oil & Gas is under way with promising capabilities to complete the existing range of services.
XS Cutter to cut any steel pipe from 2-7/8" to 7-5/8"
XL Cutter to cut any steel pipe from 7" to 20"
Down Hole Sampling chamber is a PVT cell acting as a transport The EZ-BHS instrument is the only downhole sampling system that allows the lab to analyze the sample in the exact fluid reservoir composition and conditions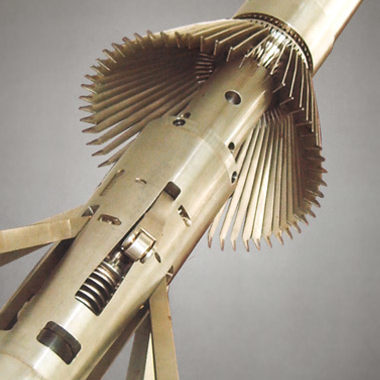 CORROSION EVALUATION TOOL
Within the concept of smart cost logging, the C.E.T. is the perfect instrument to fast evaluate the casing's condition thanks to its GR and DSCL depth correlation sensors. Its incorporated 20 fingers caliper is well suited for internal geometry and average value of current metallic masses.
All the most useful well logging tools and M.I.T., casing corrosion evaluation, long duration pressure & temperature tests, cement bond logs, acoustic and mechanical caliper.